Welcome to B&B de Giechelaar
Brabants' best
Are you looking for a cosy luxury stay in your own building?
Are you coming alone, with friends or (your) family?
Are you happy with excellent quality, privacy and only your own spaces?
Do you appreciate a triple room?
Do you like your own living room where you can relax?
Do you like to spend time on your private terrace?
Are you looking forward to a freshly prepared country homemade breakfast?
Do you appreciate a quiet environment?
Do you want to be able to eat or do an errand within walking distance?
Are you enthusiastic about a unique nature reserve 'in the backyard'?
Do you like to wonder 'around the corner' in the world of Efteling?
THEN B&B DE GIECHELAAR IN LOON OP ZAND IS SOMETHING FOR YOU!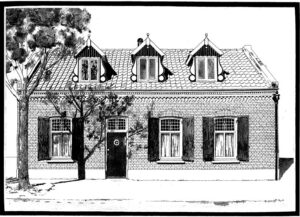 pen drawing Kloosterstraat 21 in Loon op Zand
B&B de Giechelaar is certified with four tulips by Stichting Bed and Breakfast Nederland
– a B&B with excellent quality, with many amenities and a very good service.
The interior is luxurious and a lot of care has been taken to the exterior –

credits: Milano
B&B de Giechelaar is located in a barn from 1881 that we renovated. It has two guest rooms, including a unique triple room, each with its own bathroom (en suite) and a separate living room on the first floor.
After check-in you will be given the keys and you are free to go wherever you want during your stay. We offer children up to 12 years 50% discount on their stay*
When the weather is nice, you can relax on your private terrace and enjoy your country breakfast outside. Our freshly prepared country breakfast includes homemade, artisanal and local products.
You are welcome with a maximum of 5 people*


They are back: Efteling entrance tickets with a € 12.50 discount.

OP=OP*

* ask for the possibilities or look under prices

CALL US +31 6 408 72 693