To understand the origin of the 'Loonse en Drunense duinen' we have to go back to the 3rd century AD.
The country was wooded with alder, elm and oak and the 'Maas' was still a small river at that time.
The people, mostly living at the banks, survived by hunting and agriculture.
Fields arose by deforestation.
Later, the sea climate caused shifting sands and this sand was used to protect the homesteads against the water.
The 'Loonse en Drunense duinen' arose after ages. It is a National Park since 2002.
The Foundation for natural monuments writes: 'You would not expect it, a desert in Holland, but full of life.
Come ride a bicycle, ride on a horseback or walk through the extensive forests and hills of sand.
You are most welcome in the Brabantse Sahara.
The community of Loon op Zand, earlier mostly called 'Venloon', was founded in the 12th century AD.
The Efteling area is from the same time.
The name 'Venloon' indicates the proximity of fens.
Because of the violent shifting sands in the 14th century AD, the village had to be moved in western direction.
At the same time, the construction of the still existing church and its tower and the castle in Loon op Zand began.
According to the local history, the castle has sheltered many noble guests, like Charles V, in its existence.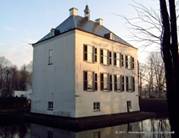 The old canal system has been largely preserved.
As historical country seat Loon op Zand, this area is from 2002 on a monument of Holland.
Despite gradual adjustments and condensation of the constructions in 600 years,
the personality of the village did not change actually.
The name of de Giechelaar reminds us at the footwear industry.
Loon op Zand was connected to footwear industry for a long time.
It started as a possibility for extra income for the farmers in the 17th century AD.
The genesis of the real shoe enterprises started later.
The bond between master and servant was very strict.
A servant would only produce shoes for its master, for no one else.
When a servant secretly produced shoes for someone else and his master noticed it,
dismissal was inevitable for the servant and this meant poverty.
The shoes made in this illegal way were called 'giechelaars'.