De Giechelaar does not only offer shelter to you, but also to your brought bicycle, motor, scooter, mountain bike or step. In Loon op Zand there are many possibilities to rent a bicycle (either electrical or not), mountain bike or scooter.
You can make your wishes familiar to us by emailing us at info@degiechelaar.nl
or fill out the form in 'reservation'.
Our tandem can be used by our guests for free.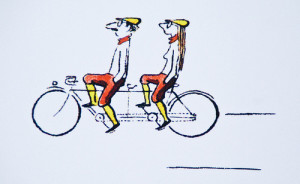 You will find a busstop at 400 m from our B&B.
In the city of Tilburg, about 10 km from de Giechelaar, there is a railway station.