B&B de Giechelaar is located in the center of the village of Loon op Zand.
You will find spacious free parking possibilities. Our location is ideal for little excursions
(in the wild, in a theme park, in (fortified)cities), but also to relax or to work in silence.
A fraction from the possibilities:
Shops, cafés and restaurants are in a range of 100m from de Giechelaar.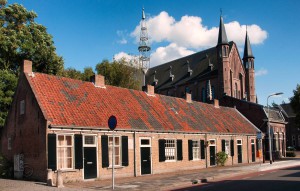 Loon op Zand is adjacent to the National Park 'Loonse en Drunense Duinen'.
A section of this National Park is 'De Brand', a marshy area east of our village.
Because it consists out of forests and marshes there can be found very exclusive birds here.
The owners of de Giechelaar have a predilection for geocaching.
We can help you to get acquainted with this type of treasure hunting.
You can also loan the GPS from de Giechelaar on your excursions if you wish to.
You and your possibly children will experience the Dutch nature in a unique way.
'De Efteling' is 3 km away from de Giechelaar. 'Safaripark de Beekse Bergen' in Hilvarenbeek is a 20 minute drive.
The beautiful restored fortified city of Heusden at the 'Bergsche Maas' is rich in history
and culture. It is situated at 20 km from de Giechelaar.
The sociability and the own, intimate character are the proud of the 'Brabant' capital city of 's-Hertogenbosch. Just like the city of Breda, they are pronounced as two of the best cities to go out. Both of the cities are within a radius of 35 km of de Giechelaar.