B&B de Giechelaar is located in a rural setting in the centre of Loon op Zand.
Through your own entrance you reach the tastefully decorated lounge.
Here you can watch TV, listen to music or play a parlor game.
You can provide in your own coffee and tea. Breakfast is served.
De Giechelaar offers two guest rooms with private bathroom with toilet,
shower and sink.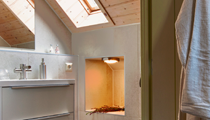 The lounge is located between the two guest rooms.
The double bedroom have two single box springs
with nice firm mattresses.